This Q&A will help explain how clinical trials work, how you can participate, and where to get more information.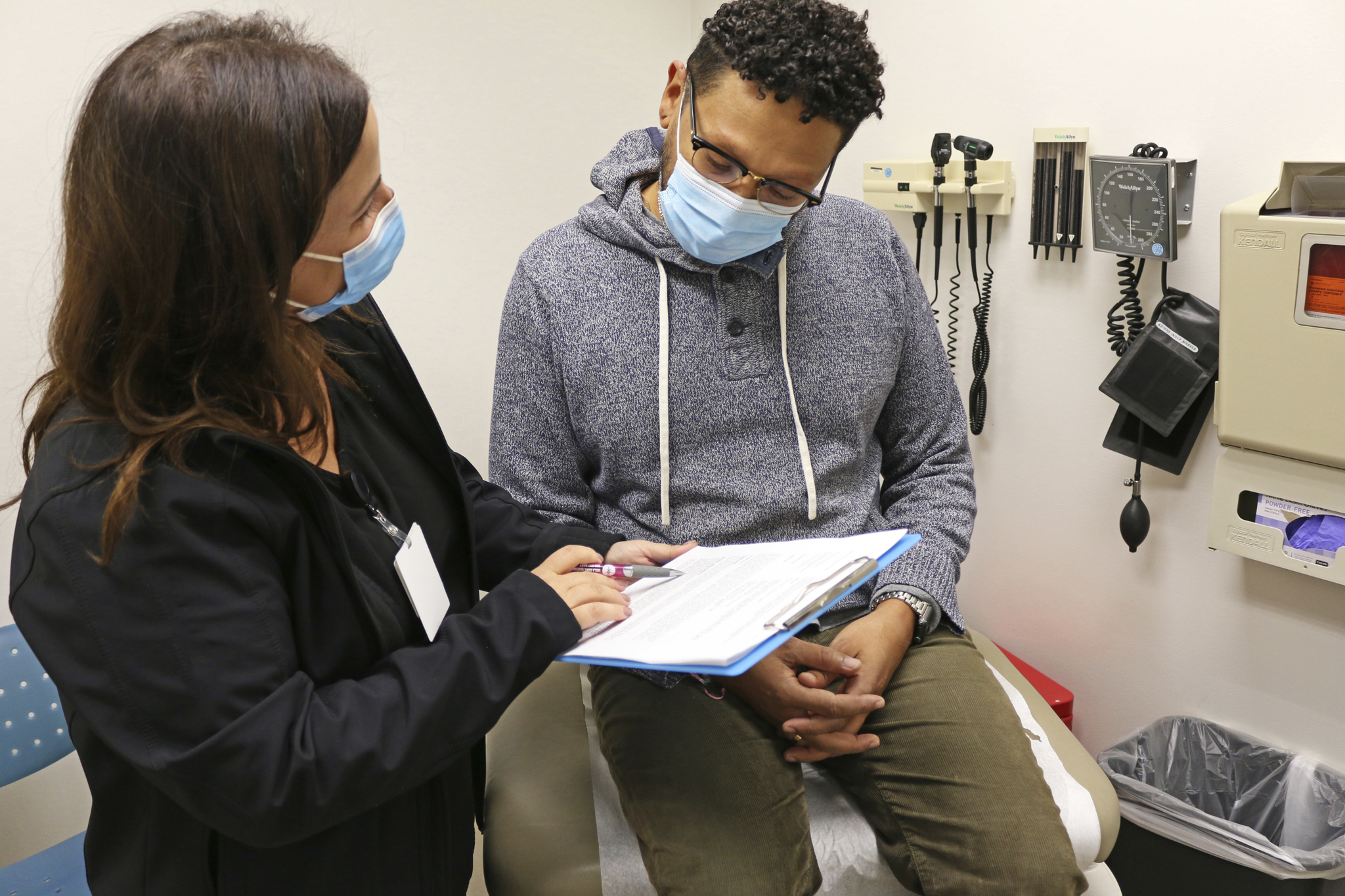 What is a clinical trial?

A clinical trial is a carefully designed research study in which a treatment or therapeutic process is tested in people. A clinical trial may vary in length from a few weeks to several years.
What do ACTG clinical trials study?

ACTG clinical trials study many different approaches. They may study experimental medications to treat HIV/AIDS, hepatitis, TB, COVID-19, or mpox or prevent or treat HIV-related complications. They may study approaches to curing HIV. They may also look at a potential new use for a medication that has already been tested and government-approved, or study ways to help people manage their medications or long-term general health.
How do clinical trials work?

Clinical trials are the gold standard of research. They are the best way to learn how different people respond to medications, treatments, or therapeutic approaches. All treatments for HIV/AIDS, hepatitis, TB, and other infectious diseases and their related conditions must be tested through a series of clinical trials before they can be approved. These clinical trials provide critical information about the safety of treatments and if they work to help people living with these conditions live longer, healthier lives.

All ACTG clinical trials are subject to extensive review. Detailed study plans, also known as the study "protocols," are reviewed extensively by research experts and ethicists. Each protocol also has a community representative on it. In addition, protocols are reviewed by community advisory boards (CABs) across all ACTG sites before they are finalized. Each clinical trial is also reviewed by an Institutional Review Board (IRB), a diverse group of experts that must approve the trial. The IRB also reviews ongoing clinical trial operations periodically to ensure that the study is being conducted properly, that any risks related to participating are as low as possible, and that any risks are outweighed by the potential benefits of the study.

To ensure reliable results, clinical trials follow precise research protocols. The protocol describes every aspect of a research study, including the study timeline and processes and what question or questions the study hopes to answer.

The clinical trial process generally follows four key phases. A study can be either a phase 1, 2, 3, or 4 trial, depending on where the treatment being studied is in its development. 

Phase 1 Trials: Provide a study medication to a small group of people (generally less than 100) to measure its safety. 

Phase 2 Trials: Provide a study medication to larger groups of people (generally between 100-300) to see if it works and to further evaluate its safety. These studies may also evaluate the best dose of the medication. 

Phase 3 Trials: Provide a study medication to very large groups of people (ranging from several hundred to several thousand) to better understand if the drug works. These trials often compare the study medication to an existing treatment. The results of these trials are submitted to regulatory authorities in the hopes of getting them approved for use. 

Phase 4 Trials: Provide additional information about the study medication after it has been approved and is available for use. These studies provide additional information about side effects and the treatment's best use.
Who sponsors clinical trials?

ACTG clinical trials are developed by protocol team members and supported by industry partners, including pharmaceutical companies. The ACTG is sponsored by the National Institutes of Health (National Institute of Allergy and Infectious Diseases, Division of AIDS).
Can anyone participate in a clinical trial?

Different clinical trials have different requirements, or criteria, for their participants. Each study's protocol describes those criteria. When selecting participants, researchers may consider a number of factors, which can include the participant's age, sex, health status (things like your CD4 or T-cell count, HIV viral load, past medical or medication history), pregnancy status, and willingness and ability to follow the trial's instructions and schedules.
What are the potential benefits of participating in a clinical trial?

Study participants may be among the first people to receive a new experimental medication. Other benefits include receiving healthcare related to the research study by physicians and study nurses with extensive experience treating your specific condition, and helping others by adding to what we know about your condition. The medications, clinic visits, evaluations, and laboratory tests required by the research study will usually be provided to participants free of charge. Medical information obtained during the clinical trial can be shared with your own healthcare provider.
What are the potential risks of participating in a
clinical trial?

A study medication may not be helpful to you, or might cause harm, including side effects. Anyone considering participating in a clinical trial will receive full information on possible side effects from the study staff and in the study consent form. Participants may not be able to continue with their current treatments while in the study and may not be able to continue receiving the tested drug after the study ends.
How is the safety of participants protected?

All ACTG clinical trials are subject to strict, mandatory safeguards that are designed to reduce any risks to study participants. Each clinical trial is reviewed, approved, and monitored by an IRB. Some trials also have CABs. In addition, all study participants must read and sign informed consent documents. These documents ensure that participants understand the risks and potential benefits of participating in the study, as well as their rights and responsibilities as study volunteers.
What is "informed consent"?

Anyone who wishes to join a clinical trial must understand everything about the study – including the potential risks and benefits and all of the obligations of participating. If an individual qualifies for a study and is interested in participating, the research staff will explain the study in detail and answer any questions the potential volunteer has. When the study has been fully explained and all questions have been answered, the participant will be asked to read and sign a document stating that they give their informed consent to participate in the study. The participant will receive a copy of the consent form.
What questions should you ask about the trial?

Anyone interested in participating in a clinical trial should feel free to ask any and all questions they have about the study, and to have all answers explained to them until they feel comfortable with the information. Questions that a potential participant might ask include:

What is the purpose of the clinical trial?

What will I need to do to join the clinical trial?

Are there already-approved treatments available for my medical condition?

How do the treatments used in this study compare with any available treatments?

Will I know what drug I am taking in the study?

How often will I need to come to appointments, use study medications, and have medical tests?

What side effects might I experience if I participate?

What should I do if I experience side effects, feel uncomfortable, or have questions during the clinical trial?

How will my confidentiality be protected?

What kind of long-term follow-up care will be provided as part of the clinical trial?

Will there be any costs involved in participating?
How can I find out what clinical trials are open for enrollment?

A list of ACTG clinical trials currently open for enrollment is available here. The list is updated frequently, so please feel free to check back for updates.

Each study description includes a list of participating sites, so you can see if a study you're interested in is being conducted at a site near you, and access local contact information. The site contact person can provide you with information about studies they are conducting. Your conversation will be completely confidential. You do not need to give your name or phone number to receive this information.

If you are interested in and potentially eligible for a study, you will be invited to make an appointment for a screening visit at the clinic. The study staff may ask you to bring your medical records, including significant medical history, medication history, and recent laboratory results.
What is a screening visit?

During the screening visit, the study staff will review the clinical trial with you in detail and you will have an opportunity to ask any questions you may have. If you decide to participate, the study nurse will review a consent form with you and ask you to sign the form to give permission to proceed with the screening evaluations. In many screening visits, blood samples will be drawn and you will be examined by the study doctor to determine whether you meet the study eligibility criteria.
What happens during the clinic trial?

The first step will be to sign an informed consent or agree to be screened for a study. If screening tests show that you qualify to enter the study, the study coordinator will schedule an entry visit. Lab tests will be done to get baseline values, and you will receive your study medication. During this visit the study medication dosing will be reviewed with you and you will receive information about possible side effects and phone numbers to call with questions or problems. Each study collects specific questionnaires, tests, and information. 

The frequency of your visits to the clinic will depend on the study. Most follow-up visits consist of questionnaires, review of your medical history since the last visit, a brief physical exam, and lab tests.
Will my primary-care physician care receive
information about the clinical trial?

The clinical research staff typically communicates with your primary healthcare provider. Your physician can receive copies of the lab results obtained through the study. The study staff can also contact them if you have any trouble with the study medication to discuss management and any changes needed in your study medication. Once the study ends, the ACTG provides a letter to participants describing the study results and details about what medications or placebo (dummy pill) participants received.